Old Driver Vehicle Profile
Customer: Master Liu
Models: Shaanxi Automobile Cummins New Pearl X3000 6*4 Tractor
Vehicle configuration: Xi'an Cummins ISM11E5 440 engine +MAN single-stage speed reduction bridge, 3.7 rear axle speed ratio + Fast 12JSD180TA gearbox
Miles: 105,000 kilometers
Load: total cargo weight 49 tons
Transport routes: conventional routes Xiangtan, Loudi-Pingxiang, other routes are not fixed, transport involves Guangdong, Zhejiang, Hubei and other places, high-speed
Transport of goods: fuel oil, etc.
Fuel consumption: about 32 liters of fuel consumption per 100 kilometers
Vehicle Keywords: Reliable, vigorous, low fuel consumption, 100,000 km long maintenance cycle
"Open this car, I rest assured, huh, huh." Master Liu heard a clear hearty laughter. Master Liu, a native of Jiangxi Province, has been engaged in the trucking industry for 20 years and has been deeply involved in several mainstream brands of heavy trucks in China. He has extensive experience in driving and profound knowledge in truck technology. He is a recognized opinion leader in the card circle.
The "this car" mentioned by Master Liu on the phone is the heavy-duty truck brand he started using in the past two years—Shaanxi Cummins, and it is also a model that Liu masters feels hate to use after he has used several domestic mainstream heavy trucks.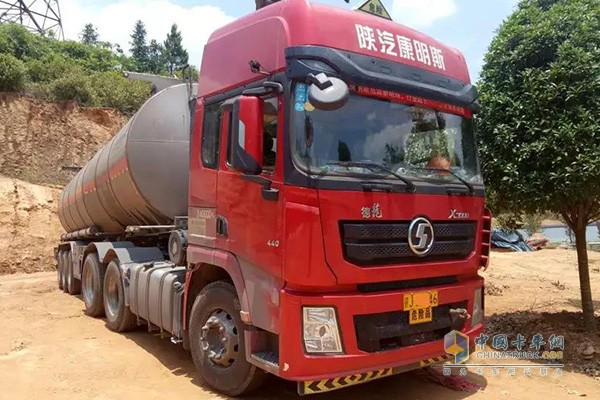 Mastering Liu Xie's "Seeing and Hatching Late" by Shaanxi Steam Cummins
"I started to touch the truck in 1998. I started with medium trucks. Because I also knew several 'buddies' in this circle, they were all happy to share the opportunity to make money. Later they were led by friends and Suggestion, I switched from a heavy-duty card in 2006 to recalling Master Liu, recalling.
Tried several heavy truck brands, this one "see you sooner"
After 20 years in the truck industry, Master Liu had countless trucks that he had contacted, and he also had his own unique experience with domestic mainstream trucks.
Starting from owning his own heavy truck, Master Liu has successively opened three brands in domestic mainstream heavy trucks. Those two brand cars that he had used very early in the memory of Master Zhang used unexpectedly a few months later. Failure, and the failed parts have been out of warranty, had to pay for their own pockets for maintenance. For each owner and every transporter, it is difficult to accept that the car that has been in operation for a few months will have to be repaired at a cost of 10,000 yuan at its own expense.
Later, in June 2016, Master Liu's old friend, who was the owner of Liu's logistics company affiliated with the vehicle, recommended for him a vehicle with a reputation for reliability in the market – the new Pearl of Cummins X3000, originally launched by Shaanxi Automobile. Having had the idea of ​​buying Shaanxi Automobile Cummins, and with the friend's recommendation again, Master Liu did not hesitate to win a 420-horsepower, hazardous chemicals tractor tractor from Shaanxi Automobile Cummins.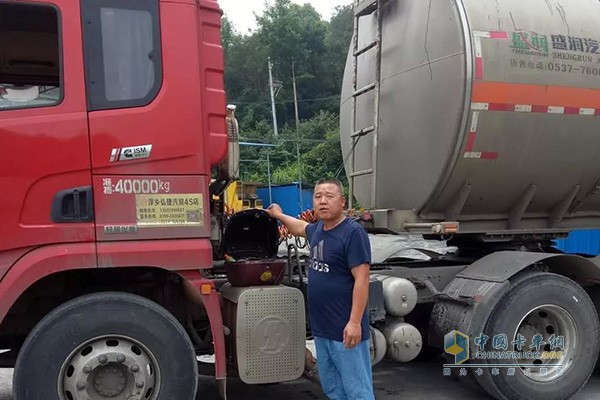 Master Liu and his 420-horsepower HWV traction vehicle
After more than a year of operation, the reliability of the car and the stable low fuel consumption made Master Liu more firm with Shaanxi Automobile Cummins' purchase options. In August of the following year, Master Liu added a reliable assistant - Shaanxi Auto Cummins 440 horsepower (3.7 axle speed Than) Dangerous goods transport tractors.
Good car to share with everyone
"Compared to the previous car, the stability of this vehicle (Shaanxi Cummins) is really good. It has not been moved since it was bought the year before, and the fuel consumption can also be very stable. The hundred kilometers of heavy vehicles (with a total cargo weight of 49 tons) The fuel consumption is basically maintained near 32 liters." Because he personally experienced the quality of Shaanxi Steam Cummins, Master Liu also began to recommend him to his friends around.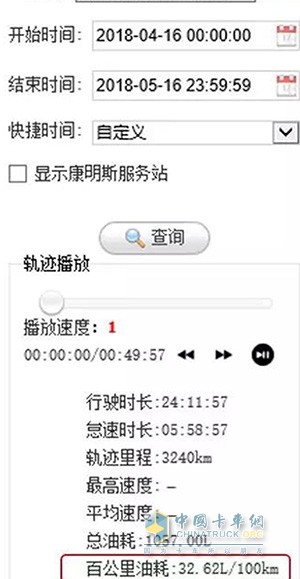 Master Liu's fuel consumption performance in the past one month
"The power is also satisfactory. There are many speed-limiting sections for dangerous chemicals transportation. However, the speed of the vehicle is still sufficient for climbing and speeding." In addition to saying that the vehicle is vigor, Master Liu mentioned the Xikang engine. The appearance is simple and simple, and it also specifically praised the reliability of this engine.
Because we trust, we recommend and buy back
Believing in his own judgment and the recommendation of his friends, Master Liu joined Shaanxi Automobile Cummins. After two years of personal experience, Shaanxi Automobile Cummins was also a trusted partner of his own.
As an experienced old driver, Master Liu's car has also been favored and chosen by his friends. When I asked Master Liu if he was willing to actively recommend Shaanxi Automobile Cummins to the friends around him, Master Liu smiled with joy: "I'm very willing to do it. I'm also good because the first car is good, and I'm decisive when buying the second one. Shaanxi Automobile Cummins."
"Open this car, I rest assured!" The words of the old driver, Master Liu, circling in the mind of the author at once, thanking customers for their trust, thankful customers for sharing, and wishing that our Master Liu used Shaanxi Auto Cummins to go straight!
Readings:
We are manufacturer and supplier of Stud And Track Roll Forming Machine. We are engaged in manufacturing, supplying and exporting a large variety of Stud and Track Roll Forming Machine. The machine include the Drywall Profile Roll Forming Machine, Ceiling Channel Roll Forming Machine , T Bar Roll Forming Machine . These machines are manufactured as per the industry standards. Moreover, we have used best grade raw materials and sophisticated technologies in manufacturing these machines.
Stud And Track Roll Forming Machine
Stud Roll Forming Machine,Track Roll Forming Machine,Light Keel Roll Forming Machine,Steel Stud Roll Forming Machine, Stud And Track Roll Forming Machine
Botou Kaiyite Cold Bending Machinery Co.,Ltd. , https://www.chinacoldbendingmachinery.com