From May 15th to 16th, the 5th China Digital Ship and Green Ship Development Summit Forum jointly hosted by Digital Shipbuilding National Engineering Laboratory, China Shipbuilding Engineering Society Computer Application Academic Committee and China Shipbuilding Engineering Society Ship Design Academic Committee in Shanghai Xiaonanguo Garden Hotel was successfully held, and Foxit Software was invited to participate in the event to showcase its application in the digitalization of the shipbuilding industry.
The shipbuilding industry is a technology-intensive, capital-intensive, labor-intensive, information-intensive industry that requires very strong information integration processing capabilities. Digital shipbuilding and green shipbuilding are the two major development directions of the shipbuilding industry. Digital shipbuilding can cover the design field, management field and manufacturing field of shipbuilding enterprises. The information system in these fields involves the application and management of documents. As we all know, PDF documents have the characteristics of cross-platform, small size, difficult to modify, safe and reliable, and its format is stable, which can easily realize the accurate transmission, browsing, printing and output of layout information, which makes PDF become the information technology of shipbuilding industry. The preferred format for documents in the system.
As the only PDF solution provider with independent intellectual property rights in China, Foxit Software has provided tailor-made PDF solutions for many shipbuilding enterprises' information systems. Foxit PDF SDK series (ActiveX SDK, DLL SDK, Embedded SDK) provides shipbuilding companies with product documentation that covers the lifecycle of documents, such as generation, conversion, display, editing, search, printing, storage, protection, and secure distribution management of PDF documents. And the solution, and can access the existing business systems and business processes of the shipbuilding enterprise, and help the shipbuilding enterprise to collect and number the design drawings and documents of each link and different departments for storage, distribution, management, recall, viewing, etc. The work of relevant departments will be systematically collected to better summarize and help shipbuilding enterprises to carry out effective management, thus helping shipbuilding enterprises to realize informationization and digitization of document management, and provide document management basis for shipbuilding industry to realize comprehensive digitalization. .
We are the specialized and top manufacturers in China and We offer full set Seed Grain Processing Equipment solution. Whole Seed Processing Line is from Pre-cleaning, Fine cleaning, Destining, Gravityseparating, Beans polishing,Seed coating, Last seed weighing and packing.
The Seed Cleaning Plant is composed of several single machines. Base on different grain type and processing grain, we will suggest appropriate grain cleaning machines. These grain cleaning machines arecollocated freely. Between each machines, there are Bucket Elevator , Inclined Evator or other conveying equipment to link up.
Seed Cleaning & Processing Line has followingadvantages:
Easy to setup, machines easyto move and can be placed freely.
Save labor, there are middleconveyors to transfer grain from one machine to another.
Effective and low cost, singlemachines compose a seed processing line improve the working performance. Lowproduction cost makes it hot sale.
Above flexibility andconvenience makes Seed Cleaning & Processing Plant makes it becoming hot sales item.
Seed Cleaning & Processing Plant installationeffect and introduction.
This Seed Cleaning & Processing Plant iscomposed of 5XZC-5DX Seed Cleaner & Grader, 5XZ-5 Gravity Separator, QSC-5 Gravity Destoner ,DTY Bucket Elevator, Beans Polishing Machine, HLD-50 Bagging Scale System.
Working flow: The seeds arefed into 5XZC-5DX Seed Cleaner &grader first. Seed cleaner & grader will remove the dust, lightimpurity, oversize and undersize impurity before seed flow into 5XZ-5 gravity separator. During seeds cleaned by Gravity Separator, the seeds are separated by density difference. Thepartially eaten seeds, immature seeds, insect damaged seed, sick seeds, moldyseeds are separated from good healthy seeds. Then seeds go on being lifted by DTY Bucket Elevator, Use the QSC-5 Gravity Destoner remove the stone,Sand and clods.The Go to Beans Polishing Machine polish the dust and other impurities of Beans to Shiny and bright.Finally seeds being transferred to Weighing Scale . Seeds will be weightedand packed to bags ready for sell.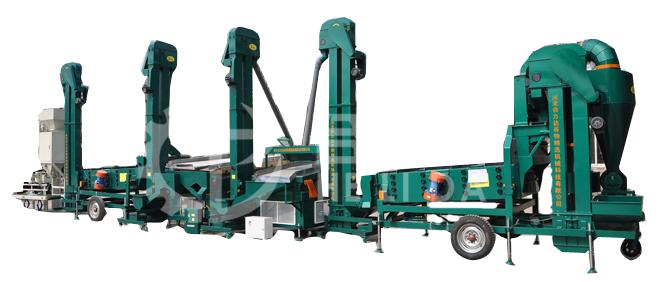 Beans Processing Plant
Beans Processing Plant,Bean Cleaning Machine,Beans Processing Machine
Hebei HELIDA Grain Selecting Machinery Technology Co., Ltd. , http://www.grainseedscleaner.com