Shaanxi Fast Group Co., Ltd., with its unique technical advantages and reliable products, holds a large share of the Chinese heavy-duty truck transmission market. After a leap-forward development, Fast has continued to steadily step on the military and passenger vehicle market with its unique dual-shaft technology advantage.
Fast Technologies has gradually established a unique technology platform through years of technology introduction, digestion and absorption. Relying on this platform, the company insists on independent innovation of science and technology, independent research and development of products, and independent development of enterprises. The special heavy-duty transmission with independent intellectual property rights has a market share of more than 86% in the domestic heavy-duty vehicle transmission market with more than 8 tons, and the heavy-duty automobile transmission market share with more than 15 tons exceeds 92%. There are more than 20 series and hundreds of varieties are domestic 50. Thousands of car models from a number of automotive plants were selected as fixed-point supporting products.
In 2006, Li Dakai, head of the Fast Company, put forward the strategic concept of "adjusting the product structure of Fast and developing the domestic passenger car transmission market" and implemented it. The company has successively developed new transmission products such as the 8JS series of small eight-speed transmissions and small eight-speed transmissions for passenger cars.
Compared with similar transmissions, the 8JS series transmission center distance is smaller (small eight block center distance is 116, small eight block center distance is 105), lighter weight, more gear, more dynamic, bearing capacity Therefore, it complies with the market demand for multiple gears, light weight, and fuel economy. After the series of products were put on the market, Jianghuai Ankai, Zhengzhou Yutong, Suzhou Jinlong, FAW Coach chassis manufacturers and other manufacturers have included it in the vehicle configuration. In order to meet user needs, Fast has improved and improved the 8JS series transmission.
In early 2007, Fast started the development of a new generation 6DS series single-cassette double-shaft full synchronizer passenger car six-speed transmission. Based on the requirements of safety, reliability, operating flexibility and comfort of passenger cars, this series of transmissions adopts a double countershaft structure with fewer gears, a short axial dimension, an overdrive gear, and a larger torque reserve factor. Due to the adoption of shift synchronizer, the gear shift is smoother and lighter when frequent shifting is required; because the head speed ratio is 7.04, the dynamic performance is better than that of similar products; due to the single box structure, With price advantage, more suitable for market demand. At present, Fast has successfully developed 6DS50T, 6DS80T, 6DS100T, 6DS130T, 6DS150T, 6DS180T, and 6DS200T, with center distances of 95, 116, 130, and 148.18, and axial lengths of 629.5 and 723.8 respectively. 782.2 and 783.3. The company relied on the advantages of the double countershaft technology and optimized the design of the 6DS series transmission to effectively cover most passenger cars from China and Pakistan to more than 12 meters.
In order to enable new products to seize the market as soon as possible, Fast has formulated a series of measures to respond to market changes. We have done a lot of meticulous and effective work in meeting the special requirements of users, technical performance improvement, timely feedback on quality information and spare parts reserves.
View related topics: Fast: Heavy-duty transmission production and sales in the world
Features of CNC roll turning lathe:
This CNC roll turning lathes are mainly used in the semi finishing and finishing turning processing work for cast iron, steel and Non-ferrous metal rolls. The machines adopt high speed iron steel, tungsten-carbide or other kind of material cutters. These kinds of designs support the machines to do turning and repairing processing work for the rolls` ex circle, head face, all kinds of complex groove face and curved surface. They can also process the similar cast iron, steel and non-ferrous metal shafts as rolls in same weight range for semi finishing and finishing work on ex circle, head face, and all kinds of complex groove face.
The machine adopts four guide way or four in one guide way made of one-piece casting. The longitudinal and cross movement adopt high rigid rectangular guide way .With the combination frame blade holder of high rigid cutter row on the rectangular, the machines have improved the rigidity and stability. We adopt high accuracy and radial clearance of the double row short cylindrical roller bearings as machine`s spindle bearings to ensure the machine`s high rigidity, stability and high accuracy. All the designs make sure the machines in integrated processing precision. And the work pieces will be processed in high accuracy.
Machines adopt paste hardened plastic guide way and centralized lubrication systems for every guide ways` lubrication. It uses fixed-point quantitative oil supply principle. This ensures that the dynamic response of the system and the long using life for the machine`s guide ways` lubrication. Machines adopt full stainless steel covers for guide way. This kind of design will keep the machine`s accuracy.
Specifications of CK84 series CNC roll turning lathe
<
N0.
Item
Unit
CK84125
CK84160
CK84200
1
Max.

swing

over

bed
MM
Φ1250
Φ1600
Φ2000
2
Max.

swing

over

carriage
MM
Φ1000
Φ1250
Φ1600
3
Max.

workpiece

length
MM
6000
8000
8000
4
Max.

workpiece

weight
T
30
42
63
5
Center

height
MM
750
900
1100
6
Max.

cutting

force

of

tool

post
KN
65
80
100
7
Max.

torque

of

faceplate
KN*M
32
50
65
8
Guideway

type


Four

guideways

made

of

mono-casting




9
Guideway

width
MM
1250
1680
1800
10
Spindle

speed
R/MIN
1.25~250
0.9~180
0.8~160












11
Spindle

diameter
MM
Φ320
Φ420
Φ530
12
Spindle

hole
MM
Φ140
Φ200
Φ200
13
Tool

rod

size
MM
80*45
80*45
80*45
14
Tool

post

travel
MM
400
520
680
15
Tool

post

feeding

speed

X/Z

axis
MM/MIN
4000/5000
4000/5000
4000/6000
16
Quill

diameter
MM
Φ320
Φ410
Φ500
17
Quill

bore

taper


106.375,

1:4
139.719,1:4
139.719,1:4
18
Quill

movement
MM
250
250
250
19
Main

motor
KW
75
98
125
20
Machine

weight
T
45
63
75
21
Machine

dimension
MM
9650*2630*2420
11650*2750*2570
12000*2900*2700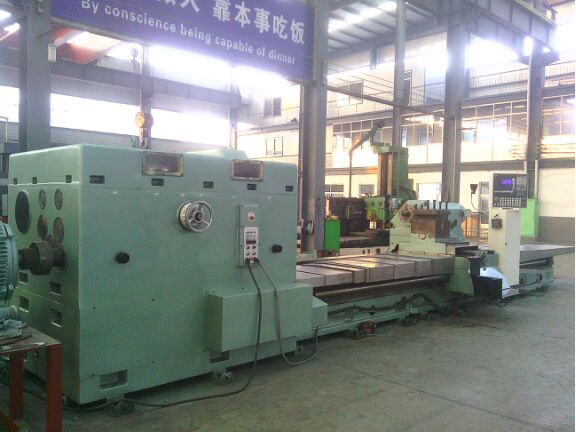 Cnc Vertical Turning Lathe,Cnc Vertical Lathe,Turning Lathe Machine
Shandong Zecheng CNC Machinery Co., Ltd , http://www.zccncmachinery.com